Randy Chapman
Randy Chapman has been performing his photographic magic on Fairytale weddings at Disney since 1996 and around Florida for 25 years. Randy acquired a great reputation with Disney Fairytale staff from the sales department to the planners. Ask any of their staff and they will say; "When working with Randy Chapman, its like working with someone whos a part of our team." With his knowledge of all the wedding locations and Disney, the Bride and Groom receive award winning photos that they will cherish for a life time. In addition to his knowledge of the area, Randy has been awarded every year since 2007 by The Knot as well as had his work Published in many magazines. Randy started his photography career in NYC and returned back to his native hometown of Orlando Florida and been shooting here for 23 years. Combining his graphic design background and photography, he can apply his unlimited imagination to your wedding day! His unique method of documenting any event allows for the couple along with family and friends to enjoy the day. Randy has a great style of combining fashion and personal stylizing each wedding. Brides say he is an artist with a camera, Randy Captures priceless moments and with an amazing eye for Artistic shots. His method of shooting is very quick to capture the moment but also has an easy going personality that makes the entire experience fun and relaxing. Randy is a genuine person, a pleasure to be around as well as to work with. Thank you for visiting and enjoy the photography of Randy Chapman!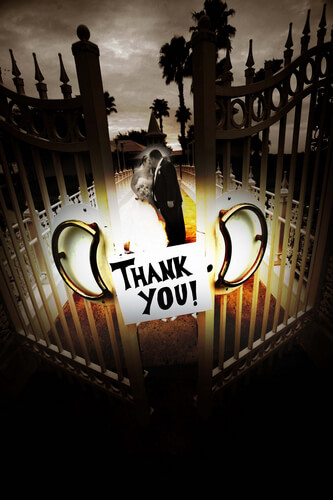 Reviews
Randy was hands down BRILLIANT! I love every single one of my pictures and I HATE pictures of myself. The second he walked in he started snapping pictures like crazy. He had no problem putting himself in the grass, behind a tree, or asking the hotel staff let him on the concierge floor so he can get an aerial shot.

After the ceremony he set us up with the boardwalk and the boats in the background and made sure we got pictures with all of our family and friends. After the family and friends pictures he whisked Adam and I away to take the Husband and Wife pictures and we had so much fun! He was so friendly and easy to work with and I swear that his personality makes all the difference in the pictures. We don't look posed and we look natural which was really important to me. He has some wonderful packages for Disney brides and is willing to customize packages to fit your needs as well. I highly recommend Randy to any Disney bride and as you'll see in my wedding recap his pictures are really beautiful.





Randy, thank you so much for our beautiful photos & for making our time with you on our wedding day so magical. Our photos are truly stunning, we're both so proud of how amazing you made us look!!

Apart from picking Disney as our wedding location , choosing you as our photographer was our best wedding decision. Our photos are something that we will both treasure for a life time. As soon as we look at them we re whisked back to our magical day last May. You captured moments that will forever bring a smile to my face . You made me feel like a princess for the day. I am 1 of those people who is camera shy but you made me feel so comfortable, we had so much fun during the time spent with you. Those memories are truly priceless.

Your work is incredible, you re creativity is why so many of us love your work. You ve been a pleasure to speak to via both emails & over the phone & even more so to meet in person. You welcomed my ideas & input in the planning process, think I spent months telling u how much of your work I loved! No wonder you win photographer of the year, you're fantastic !!

Thankyou, thankyou, thankyou Becca & Mark - London UK





Randy,
Working with you was amazing! The process talking with you leading up to the wedding went by smoothly. Your were very knowledgeable about Disney and their policies. We didn't have to worry about anything! It was very comforting to us to know that you had everything under control. The pictures you took were so beautiful! It is so hard to pick our favorite! You truly captured everything that happened on our wedding and we couldn't be more thankful! We will definitely recommend you to everyone we know!

Sarah & Chad





The best decision we made for our wedding was having Randy as our photographer. We love our photos and our wedding day went so smoothly with Randy's help. He is fantastic and his photos are beautiful and artistic. He captured the beauty of our wedding in photographs and every time we look at them, it brings back all the great memories of our special day. Thank you Randy and Linda for making our wedding as perfect as we hoped it would be.

Thanks,
Jennifer





I love Randy! Randy took our engagement pictures in July 2008 and our wedding in December 2009 and I couldn't have asked for a better photographer. He was so much fun and easy to work with. He was so professional through the whole process. The day of the wedding he was so helpful getting ready and making sure I got all the shots I wanted for my husband, son and me. I am so very happy with the way my pictures turned out. Thank you so much Randy for everything!





We want to thank you from the bottom of our hearts for the tremendous work you did with the photography of our wedding. We received many compliments from our guests asking, "Who was your photographer? He is fantastic!" We were really fortunate to have you there on the most important day of our lives.

Once you put some of our pictures on your website all I got were text after text from friends saying that your work was outstanding. I could not agree more! We just received our wedding pictures and we could not believe how many special moments you captured. You had an eye for the artistic angles that were both stylish and captivating, which brought such a unique look to our wedding album. The shots were so full of emotion that they really portrayed all the love and the mood of our wedding day. There were also those humorous photojournalistic candid shots that we never knew were taken. Another aspect of your photographic style that we enjoyed was not having a camera in our faces during the event. Instead, you were quietly in the background, capturing the mood and ambiance of our special day. We could not thank you more for your hard work. You made us feel special and important and you kept our nerves down and our bridal party relaxed. You were truly a delight to work with and I can't wait to plan another photo shoot with you..

Thank you again from the bottom of our hearts!
Rafael and Vanessa





Randy Chapman~~ AAA+++ Wow!!

What can I say about Randy other than I LOVE him!!! lol He did our engagement photos last year and from day 1 I fell in love with his style and work. The day of the wedding I was a nervous wreck, but the minute Randy walked in the door my pulse immediately began to slow, my heart rate returned to normal, and my nerves were settled. Having Randy there was like having another wedding planner. He has done all of this so many times he just took over. It was great. I literally said 'here's my dress, here's my jewelry..have fun!' and he started with photos while me and the girls finished getting ready for the ceremony.

He was NEVER in the way...during the ceremony DH and I barely knew he was there. His personality was great. He was so patient with my talkative 5 yr old niece/FG, and was even MORE patient when I, the bride, had a few moments of stress/panic/worry. All of our family and friends loved him. I would recommend him over and over and over again.

He even arrived a few minutes early to my bridal suite, he said it was so I wouldn't look at the clock 2 minutes after he was supposed to be there and freak out( such a doll!!!)





From our initial enquiry to our wedding day, Randy was excellent to deal with. He is professional and friendly and put us at ease on our wedding day. Randy really captured the day and our personalities so well - our pictures are superb, absolutely stunning, and we couldn't be happier.

Karen and Tim 12-9-2009 WDW





My daughter Courtney Mayer Stephens was married last fall and Randy Chapman was our photographer. Courtney and I had chosen him after meeting with several others because his work, unlike just a picture, captures the emotion of the event.. He was delightful to work with and we absolutely love all of the amazing photos we have. I would highly recommend him for any occasion!

Susie Mayer





Randy,

Thank you so much for being a part of our wedding day. From the moment I booked you, you have been a pleasure to work with. Even now that our wedding is over, you are still amazing. It's obvious that you take great pride in your work and genuinely want us to be happy with everything, which we definitely are! The photos you took bring us right back to the moment and emotions we felt that day. You captured facial expressions of us and our families that were priceless. For one guy, you sure do move quick! I couldn't believe all the different angles of shots that you took, it was amazing to see. We loved that you got every vantage point and captured the little details that we had put so much thought into. You took so many creative pictures that ended up being some of our favorites- you have a great eye for finding the artistic shot. I really have no idea how to narrow down the pictures that we want because they are ALL amazing!!! We are so glad we booked you, and I would absolutely recommend you 100% to future brides. Thank you so much for capturing the best day of our lives and being so wonderful to work with!

Julie von Rueden
(Baltimore, MD)





Randy was awesome! He made our whole wedding photography experience with him wonderful. Right from the beginning he was prompt in returning our calls and his customer service continued right through to the day we received our wedding album. He got a feel for our style, really listened to us, understood what we wanted, and carried it out to perfection. Being amateur photographers ourselves we had high expectations and Randy exceeded them in every aspect.

We knew from talking to Randy on the phone he had a distinctive eye behind the camera. When we met him the fist time he was exactly what we expected. He didn't just document our wedding day he truly captured the spirit of the event as well as lots of beautiful peripheral moments we're sure most photographers would likely overlook. He was happy to be there and while his upbeat personality added to the event he had the ability to blend in and become invisible when appropriate. He had a wonderful ability to capture the random candid shots we love and to direct us into areas, groupings, positions, and poses in a natural way to get the perfect shot he's envisioned. We really believe the photos he took are what we see in our minds eye when we think of our special day. The very reasonable fee we paid Randy for his services was likely the best money we spent on our wedding. We feel we couldn't have gotten a better wedding experience or better photos at any price. Randy has our highest recommendations.

Thanks Randy!! - Mr. and Mrs. Thomas R. Gommel and Family





Hi Randy,

Sara and I just wanted to take the time to thank you for all you did at our wedding. You went above and beyond for us and we can not thank you enough. Not only did you take pictures for us, but you served as an interim coordinator since our DJ dropped the ball on controlling the flow of events. I really can not thank you enough and we look forward to seeing the pictures from the wedding.

-Michael and Sara Andrews





There are not enough good words in the English language to describe how wonderful Randy was at our wedding. The pictures he took were just amazing and gorgeous, and captured all the joy, wonder, and magic of our wedding at Walt Disney World. Randy was wonderful and sweet, and instantly made us feel like good, cherished friends. He was unobtrusive and yet looking at the pictures it was clear that he was always right there to capture a moment on film - nothing escaped him! There was no one we would rather have had there, and we're so glad that we chose Randy to capture our wedding day. You're in good hands with him - THANK YOU SO MUCH, RANDY!!! You're the best!

Michelle & John





We are so glad we chose Randy for our engagement and wedding photography. We loved his enthusiasm and he did a great job making us both feel relaxed on a very nervous day. Our pictures are both beautiful and creative. We couldn't be happier, thanks Randy!

Heather & Nolyn





Randy is the most wonderful person to work with. He automatically makes you feel at ease, and as if he was an old friend. We hit it off right away. During our engagement photo shoot, we laughed and talked the entire time. I thought that I would be nervous about taking these pictures, but I wasn't at all. We had a blast! We had such a great time during the shoot! The best part was the results. We received our proofs quickly, and they were gorgeous! It's going to be hard to choose just one for our guest sign-in picture!

Chris & Rob





Randy is a wonderful photographer! For one, I was searching for a custom package that would fit all of my needs, Randy was happy to work with me and put a package together that was perfect!

I was looking for a photographer with a wonderful personality so that I would comfortable doing the many pictures I wanted for our wedding day. Randy is friendly and upbeat-with a great sense of humor. He helped me keep smiling and not be too nervous on my wedding day. He really made having all of those pictures taken a fun and memorable experience. I felt like I had a good friend taking pictures.

Randy was willing to work hard to capture all of the moments of my wedding day. He is quick to notice and take pictures of distinctive moments that I did not even notice at the time that they were going on. It was like Christmas day to receive the proofs and see all of the priceless moments he had managed to get photographs of.

He also has a flexible style, which was great for my taste. He took stunning black and white, traditional, artistic, and photojournalistic style pictures of our wedding day. Our pictures are absolutely beautiful and I am totally thrilled with his work. I am so glad that I chose him for our photographer and would highly recommend him to anyone.

Cin & Keith





Randy Chapman was a vital part of our vow renewal. He calmed our nerves, created magic and became an instant friend. I only wish he could have been an honored guest.

Randy made posing for our pictures seem effortless and fun.

The quality of our photos is outstanding! Randy really captured our special day with an eye for detail. We now have lasting memories that truly show the magic of Disney World, the love we have for each other and our family, and the fun we shared at our Vow Renewal.

Kim & Michael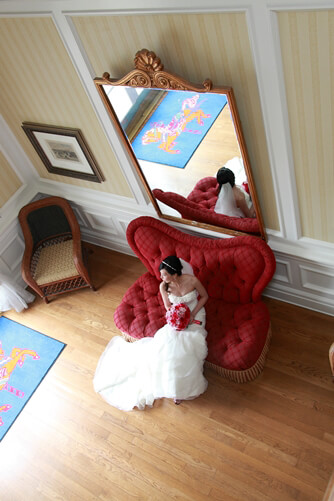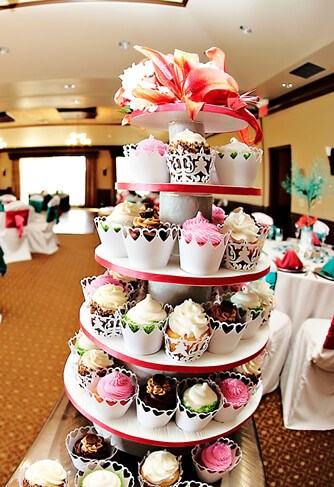 Awards
After many years of acclaim by clients, Chapman Photography has the additional honor of also being recognized by many wedding organizations for excellence in Photography.

Please do not delay, click on the contact link above and bring Randy Chapman's award winning photography to your special day!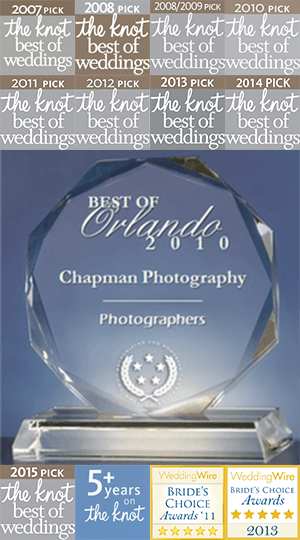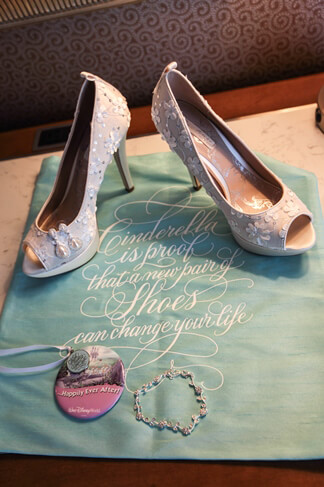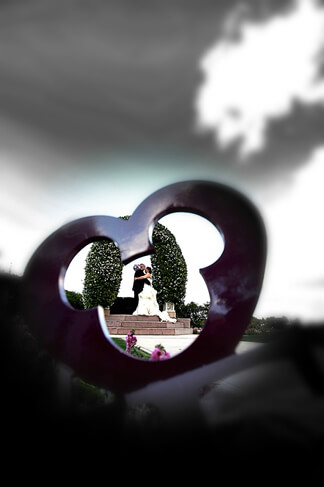 Family/Engagement Contact Form